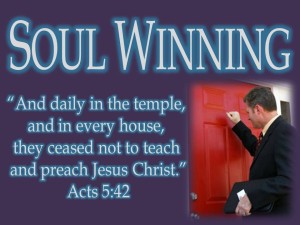 Biblical References to start with: John 3:16-18,36; Ezekiel 3:17-21; 18:4; 33:1-16; Romans 1:14-16; Matthew 10:32,33; John 4:35-38; 9:4; 1 Corinthians 7:29-31.
Sinners cannot get saved without the preaching of the gospel. It is the soul winner's duty to preach to them.
The implication of neglecting personal evangelism includes
(1) The loss and waste of ripened harvest.
(2) Requirement of sinners' blood from negligent soul-winners (Ezekiel 3:17-21; 33:1-16).
(3) Christ being ashamed of Christians that neglect to witness (Mark 8:38)
(4) Loss of soul-winners' reward (Daniel 12:3; Proverbs 11:30)
(5) Spiritual decline and stunted growth of local churches, and
(6) Delay in answer to prayer.
The consequences of neglecting personal evangelism on the part of the sinners, the soul-winners and the church are so great.
Every believer must therefore, wake up to this great responsibility. We must rise up to renew our first love for Christ (Revelation 2:1-5).
Say to yourself, "today I will undertake the task which is set before me, which is to win sinners to Christ". Haven said that with conviction, I admonish you today to launch out and make this happen in your own little way.