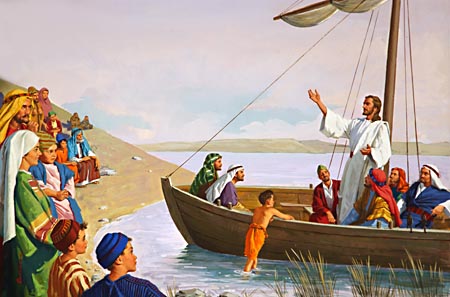 God had always needed man to carry out His mission on earth. This does not mean that He couldn't have been able to carry out His mission without the instrumentality of man. But in His wisdom, He has designed to get man involved.
"And he entered into one of the ships, which was Simon's, and prayed him that he would thrust out a little from the land. And he sat down, and taught the people out of the ship" (Luke 5:3).
Jesus in our text above needed a platform from which He could preach to the multitudes at the seashore.
There were many boats around and He chose to approach Simon's. Observe that He did not compel him to allow Him use His boat but simply "prayed him."
Had Peter turned Him away, He would have gone elsewhere. But Peter obliged Him. Jesus did not use and abandon Peter. He knew his need, how he had toiled all night and failed. He gave him the miracle of a great catch.
The Lord does not use one and abandon him.
Overwhelmed by the blessing of a single moment of service and consecration, Peter took a wise decision for a lifetime of service and commitment. He saw the initial blessing as a tip of the iceberg.
If he had given to the Lord a moment of service and got such a huge return, what would a lifetime of surrender bring him? He must have reasoned. So, he gave up all to follow the Lord and we know today that that was the wisest decision.
Today, the Lord is still looking around for "boats" He can use. There are many people out there He needs to reach, to teach and to bless. Would you lend Him your boat, your life, talent, house and possessions?
Remember, even though He owns you by right of creation and redemption, He will not compel you; He will only "pray" you. Also remember, He will not use you, walk off and abandon you. So, do not turn Him away.
If you turn Him away, He will certainly get another boat but you would have lost a lifetime opportunity. Do let Him use you. You will be glad you did!
THOUGHT FOR THE DAY: Take my life and use it, Lord!
***Share your thoughts and what you've just learnt in the comments section below. Don't forget to SHARE!