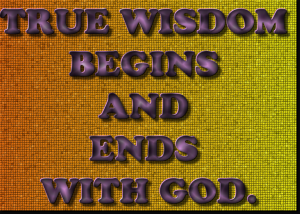 Ordinarily, wisdom is defined as the ability to assess issues and situations correctly, following the best course of action on the basis of sound knowledge and understanding.
This is clearly different from the wisdom of the world, which seeks to measure all forms of wisdom merely on the basis of human knowledge, understanding and rationality.
"But we speak the wisdom of God in a mystery, even the hidden wisdom, which God ordained before the world unto our glory: Which none of the princes of this world knew: for had they known it, they would not have crucified the Lord of glory" (1 Corinthians 2:7,8).
The biblical concept of wisdom is quite different from the standard view which seeks to subject its understanding of wisdom to philosophical and rational thought in explaining the deep mysteries of human existence. This has been described variously in the Scriptures as the wisdom of this world, human wisdom, the wisdom of men, the wisdom of this age and God's wisdom.
In our text above, Paul the apostle, in proffering answers to the questions of the Corinthian church, made it abundantly clear that there is a world of difference between biblical wisdom and the wisdom of the world. The first principle of biblical wisdom is that people should humble themselves before God in total obedience and reverential worship; and accept the message of the Cross as real and final.
Non-Christians do not see the gospel as the power of God unto salvation. One's decision to follow the Lord seems to them foolish and silly.
No one can comprehend God but believers are given the spirit to understand God's plans. The world still clings to the wisdom of this age which eliminates God from the realm of man. The wisdom of God is a mystery. He has chosen both base and foolish things to confound the worldly wise.
As you read this, the only true option open to you is to stop rationalizing the message of salvation, accept Christ and follow Him all the way. This is the only true type of wisdom that humanity needs today.
THOUGHT FOR THE DAY: True wisdom enables fallen man to reconcile with his creator
***Share your thoughts and what you've just learnt in the comments section below. Don't forget to SHARE!