"Beware of false prophets." Our Lord, Jesus Christ, is the good Shepherd and His warning is to make His sheep to be watchful. He does not want to lose any of His own to "ravening wolves." "Beware" – be watchful, be on your guard, take warning.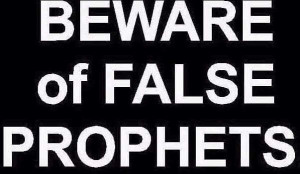 In sounding this alarm and giving this warning, Christ was motivated by perfect love on the basis of His perfect knowledge.
There would be no warning if there were no danger. Knowing the presence of false prophets even at His own time and foreseeing the rise of teachers of damnable error in our time, He gave this warning over and over.
The Apostles have also given us the same warning. "Beware of false prophets, which come to you in sheep's clothing, but inwardly they are ravening wolves. Beware of the leaven of the Pharisees and of the Sadducees.
And many false prophets shall rise, and shall deceive many. For there shall arise false Christ's, and false prophets, and shall shew great signs and wonders. Behold, I have told you before.
After my departing shall grievous wolves enter in among you, not sparing the flock. Therefore watch. For such are false apostles, deceitful workers, transforming themselves into the apostles of Christ. Beware of dogs, beware of evil workers. But there were false prophets also among the people, even as there shall be false teachers among you, who privily shall bring in damnable heresies, even denying the Lord that bought them, and bring upon themselves swift destruction. And many shall follow their pernicious ways.
Beware lest ye also, being led away with the error of the wicked, fall from your own stedfastness" (Matthew 7:15; 16:6; 24:11,24,25; Acts 20:29-31; 2 Corinthians 11:13; Philippians 3:2; 2 Peter 2:1,2; 3:17).
"Beware of false prophets." If it was a necessary warning at the time of Christ and the Apostles, it is a much-needed warning today.
Satan, the world and the flesh are not the only dangers in the way of the believer; there is another great danger: false prophets – wolves in sheep's clothing. Beware, watch and be on your guard.
May God give us the Grace to heed to His calls and warning in Jesus name!
Amen!!
.